The town of New Amsterdam first developed as a settlement beside Fort Nassau, former seat  government of the Dutch colony of Berbice, some 55 miles up the Berbice River. This small Fort consisted of private homes, warehouses, shops, a repair dock, two smithies, a brick church, a Court of Policy building and an inn.
Around 1784, the Dutch relocated the settlement of New Amsterdam to the confluence of the Berbice and Canje Rivers. The name New Amsterdam was chosen because most of the colonists originated from the province of Amsterdam in Holland. Sometime between 1785-1790, New Amsterdam was established as the seat of Government for Berbice. At that time the town was little more than a forest settlement, with a few houses and no established roads or drains.
By the resolution of an Ordinance dated January 11, 1791, plots of land were awarded to settlers along the river front. Ordinances in October 1825 and September 1838, resulted in the establishment of a 'Board of Policy' to be responsible for the affairs of the Town. In 1844, a Board of Superintendence was established for this purpose. The town developed under the Board's guidance; this body lasted until September 1, 1891, when legislation was enacted to incorporate the town into a Municipality.
Today, New Amsterdam is a developed town with a number of business places, schools, churches, government offices, restaurants, hotels and other amenities. New Amsterdam takes up approximately 13.7 square kilometers and has a population of about 35,000 inhabitants. The town is bordered to the north by the Canje River; south by Doe Park; west by the Berbice River and east by Caracas (Angoy's Avenue).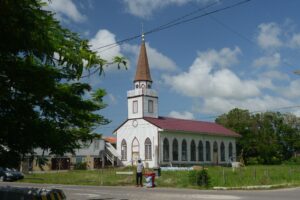 New Amsterdam
Location: New Amsterdam, Berbice Classification: Religious Period/ Year Built: 1820 Historical Background / Description: All Saints' Scots Presbyterian Church
Find out More